Dedicated to Wendy L. Throop Sunderlin Cause of death Gunshot wound to the head, death immediate, why, we will probably never know.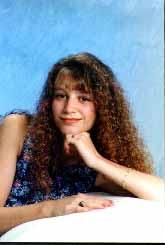 Wendy L. Throop Sunderlin: Born 6-18-77, Died 11-12-96


She was 19 , a sophomore at OWU and had her whole life ahead of her, along with helping ours. She graduated 13 in her class out of 222 students, was in Who's Who of American Students two years in a row, in the Nation Honor Society and had a huge scholarship and grant that she earned with her hard work over the years, was in cross country and track in high school and college, picked in the top of the Miss Grapette pagaent, was in Tri Delta sorority, worked two jobs last summer, and had many, many friends that loved her. There were buses in her funeral, they had never had that before. She is sadly missed by so many!!!!

She was suffering from major depression and even the experts did not see it...she was raped in her Freshman year at college and attempted suicide January, 1996...they pronounced her just overwhelmed and as long as she had support she would be fine....they were wrong!!! She put a good "Mary Sunshine" smile on and made it another 10 months until it must of been too painful...she drove home from school for 4 hours, came home when we were at work, put on a happy smile for her Grandmother her lives with us (she is extremely deaf and 86) and found my husband's rifle, learned how to load it and went to her room and died. I found her when I got home....We were best friends for so many years, from the moment that she was born, what do we do now?!




The Trumbull Township rescue squad wrote a poem for her and published it in their paper, it goes as follows and we like to think about this quite often....

Heaven's Child

God sent a child from Heaven, To make us laugh and smile, But she was only with us, For such a little while.
She seemed so very happy, So full of life and pride, Now we'll never know the feelings, She kept hidden deep inside.
For one day God came and took her, and carried her away, To be with Him in heaven, Oh Lord, we only pray.
That she knew how proud we were, How much we loved her so, Now she's Heaven's child, Yes, in my heart I know.
She's smiling down upon us, And prays we understand, She's reaching down with angel wings, To gently hold our hands.
She whispers that she love us, As her halo glows so bright, Now a new star up in Heaven, Will shine on us tonight.
In memory of Wendy L. Throop Sunderlin