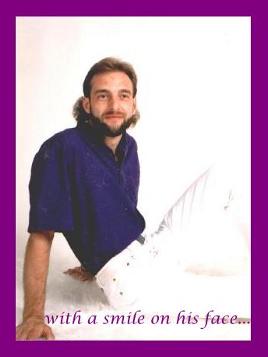 JOSEPH "TODD" JOWERS
MAY 25,1964 -- OCTOBER 13,1996
JOSEPH "TODD" JOWERS WAS BORN ON MAY 25,1964 AND WENT
TO BE WITH THE LORD ON OCTOBER 13,1996. TODD WAS
MURDERED. HIS CASE IS STILL UNDER INVESTIGATION.
TODD WAS OUR OLDEST CHILD AND ONLY SON.WE NEVER GOT
TO SAY GOOD-BYE! TODD IS MISSED AND LOVED BY HIS
FAMILY AND FRIENDS.TODD, WE WILL ALWAYS MISS AND
FOREVER LOVE YOU! YOUR MEMORIES WILL BE EVER IN OUR
MINDS AND HEARTS.
TODD WILL BE REMEMBERED ......with a smile on his
face...with a song in his heart!
WHO? WHY?