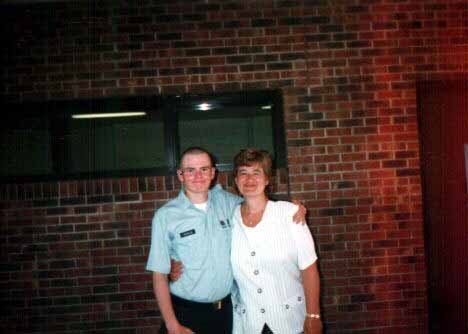 Joshua Eugene Hedglin
September 13, 1978 -- March 16, 1997
The first time I saw Joshua was on October 30,1978. He was the most beautiful child I had ever seen. I have always loved children and been drawn to them but not like this one. I fell totally in love with Joshua right away I prayed day and night for God to give me the opportunity to be this child's mother. On December 4, 1978 a miracle happened, my prayers were answered I became Joshua's Mom. Everything was right with the world.
Joshua was so smart he learned very quickly and was so inquisitive he was always busy exploring his world. He hardly ever cried as a baby. By five months he could say Da Da , La La (love you) and Ni Ni (night night) by eleven months he was walking I was so proud of him you'd think no else child had ever walked or talked. I was lucky enough to be able to stay at home with Josh while he was young. It was a struggle to make ends meet but it was so important to me to be there with Josh so" Dad" took on two jobs. Josh and I did everything together. We took long walks and when it was snowing I'd bundle him up and set him on a sled and we'd still take long walks and look at the world around us.
When Joshua was three we moved to Calif. to see if we could build a better life and "Dad wouldn't have to work two jobs and he could begin to spend some time with Josh. Well it was an even bigger struggle but we did manage to make it on one job. The first time we took Josh to the ocean he was so excite to see all that water. As we drove on the pier he squealed with delight "look mommy there's stirin up boats" Josh what are stirin up boats his reply was look right there mommy see there stirring up the water! He loved to watch the seagull and the seals and of course he loved the water finding seashells was a favorite treat. We spent many hours during the day riding the bus around San Jose just looking at the town sometimes we'd stop at the "big mall" and sit by the skating rink and watch the kids skate he loved it there.
Before I knew it was time to start school. The first day of school was on his fifth birthday he thought that was about the best birthday present any kid could get. Now he began to grow so fast. But living in San Jose poised to many problems with a young boy wanting to explore the world on his own with his own friends. When he was six we moved to Red Bluff Ca. In the northern part of the state. A much smaller town, soon he had many friends and was off exploring the world with his own friends I missed the time we spent together but I was so proud of him and happy to see him growing so independent and having so many friends. In the forth grade he made it on the honor role . But the kids would tease him and call him bookworm although he never cracked a book it just came easy to him. He was reading at the tenth grade level and could spell any word you could think of He didn't like the kids calling him names so to compensate for it he became the class clown. Soon he found he could make people laugh and he loved doing that.I began a journal for Josh that Christmas, a collection of poems and thoughts and dreams for him. The opening page was: If I could give you one thing it would be that the world disarm it's bombs and lay down it's guns, drugs would be forever gone and the world would learn to live in peace without violence....
When he was thirteen gang violence was beginning to move north to a town of Redding just thirty miles north of Red Bluff. And a small amount of trouble began in Red Bluff We knew we had to go somewhere to keep him safe. We moved back to Mo. Where our family began. Here he would be safe. After a difficult adjustment time things began to settle down. Josh made lots of GOOD FRIENDS. Although the teenage years were trying it was nothing unusual. He had many friends to the house for hours of fun, playing Nintendo, jumping on the trampoline, talking on the phone, just hanging out. Sleep overs with Ben, Brian, Brad and Jesse. He spent many hours with Brad and Brian at the skating rink. He finally realized a dream from when as a child we sat in the "big mall" and watched kids skate for hours. He loved to play baseball and football with his friends in the field by our house or soccer in the field by the college but his favorite thing was Hockey at the skating rink with Brad, Brian, Chris, Davy, and Keith. Among others.
Sixteen was a difficult year for him his best friend Charlie committed suicide that sent Josh into a tailspin but he seemed to recover although he was never the same as we all know were never the same after losing some one we love. He went frogging with his Dad one day and stumbled over a young man who had went to the lake in our neighbor hood and took his own life. This to effected him deeply, as it would anyone. In the few short years between twelve and sixteen he had lost six friends to suicide.
Shortly after Charles death Joshua met Cindy He was so happy when he was with her they were good match. He came alive again. He was that old mischievous young man with the crooked smile again. Whenever he wasn't working at sonic he was with Cindy. He graduated from high school at seventeen what a bitter sweet time that was I was so Proud of him yet so sad because it was the beginning of really letting go. Little did I know just how far letting go would take me.
He joined the Army after graduation and in a week he was off to So. Carolina with his best friend Ben. Unfortunately they were separated then. Ben in one platoon Josh in another. Try as they might they never had the opportunity to see each other except for one brief moment at a concert on fourth of July 1996, during basic training. They missed each other by days. When on leave Josh's leave was over when Ben's was just beginning. In less than a year Josh began to hate being there in the army he hated being around the guns. On several occasions he called to say I'm afraid some one will shoot me some of these guys don't know how to handle a gun. I want to come home. I want to go to college and become an art teacher (he was a great artist). So that's just what he did.
On February 25, 1997 he was honorably discharged and home where once again we thought he was safe. In two weeks he had gotten a job and had enrolled for the fall session at MU. He was once again a happy young man with the crooked smile. Though Cindy and Josh broke up during Basic training they remained good friends and there was still a twinkle in his eye when he spoke her name. He met a new girl Ely.
It was on March 16, 1997 that the world stopped spinning. Josh went to pick up Ely and spend the day with her. As he went out the door he called back to me BYE,MOM I LOVE YOU I'LL BE HOME AT 5:30. He would be bringing Ely home at 5:30 for dinner. On his way home he stopped off at another boys house it was there that fate spun it's evil web. This person (I'M trying to be Kind) was playing with a shot gun. There were several kids in the room the parents were not at home. The sixteen year old boy was pointing the gun at each of the kids they each asked him not to point the gun but he continued to do it anyway. He pointed the gun at my son's head, his girl who was sitting behind him pushed the gun away and ask him to not point the gun at Josh. He brought the gun right back this time aiming at Joshua's chest. Joshua asked him "is that gun loaded" the answer" well let's find out". In that instant of total stupidity and ignorance and with Blatant disregard for human life my son died.
At 5:35 the doorbell rang I remember thinking, well get set for another practical joke but when I went to the head of the stairs I saw my Husband standing there looking so lost and as white as a sheet. There was an officer standing in the door asking if we were the parents of Joshua Hedglin. I remember thinking well you know we are , but in that same instant I knew why he was there. My mind screaming no don't say the words I won't listen but still hearing the words coming from my mouth IS MY SON DEAD? You see I already knew he didn't have to tell me, an hour before for some reason I could not identi~ I became so cold and I knew something was horribly wrong but I didn't know what yet. But I now know what it means when some one says your blood runs cold because that is exactly what happened. I always knew when he was in trouble.
Some how we got through the funeral arrangements I remember it being so dark and not really being aware of what was going on something inside just took over. It was like being outside your body looking down on strangers watching them make all these decisions and going through the motions. My mind remembers that week but my heart does not believe it was real it had to be a really bad nightmare and I have to wake up. Wake up is just what happened a few weeks later I found myself sitting on the ground in the cemetery, the darkness seemed to be broken up by the bright sunlight forcing it's way through the darkness. I remember the first thoughts were, what am I doing here, whose grave is this, did I lose my Dad, Oh, no this is my son's grave but how can this be. It can't be, Not My Son.
A year later we have learned more and felt more pain and betrayal then any parent should have to. We never got to say goodbye one minute he was walking out the door the next it is 18 hours later and he is laid in his casket. I never held my boy in those last hours I never saw him in the last hours he was whisked away to the mortuary and that was it. It was over and I was suppose to except this! Since everyone knew my son there was no need to identi~ the body but I would have liked to had the privilege of holding my sweet blue eyed boy one last time and to say goodbye with him in my arms.
We have learned how unfair the justice system can be. Though the boy was under house arrest for four months he seemed to just go on with life. Had friends over to his house etc. still went to work with his friends. Finally after seven months the judge sends him to a detention center for one year not enough for my son's life but at least a little justice, in December comes another blow he is released from the detention center free to start a new life after serving only three months.
After a year we the parents and the friends of JOSHUA EUGENE HEDGLIN still try to pick up the pieces of what's left of life and go on AND with the help of GOD we will go on. To Joshua's friends I wish You PEACE and remember the times Joshua brought us all so much joy. Please continue to visit us you are always welcome in Josh's home, you don't know how much your visits mean to us THANK YOU SO MUCH.
BEAR I MISS YOU SO VERY MUCH LOVE MOM
A Moment:
In a moment all of our tomorrows
Disappeared into today.
In a moment all of our lifes pictures
Were torn apart and thrown away.
In a moment, my nightmares all came true
I was left alone withour you.
In a moment
With my hearts voice screaming
Our future disappeared
If for a moment
I could touch your face
Hear your voice, the pain erase.
If for a moment
I could send away the emptiness.
Just for a day.
If for a moment
It just simply wasn't true.
Then in that moment
I would love you.
But there isn't such a moment.
Not today.
And I must learn to live another way.