Here is some family photos of us

This is our baby Krista and her new hubby Jeff. They were married on the sixteenth of February, which would have been Fritz's and my 39th anniversary. It had turned into quite an exciting day. Little Dalton was born, Krista and Jeff were married, plus this day is also Jeff's birthday. All this, one week after my Fritz had died. We had a wedding and small reception planned, but alas, sadly, all of that changed with his untimely death. We canceled the reception but went ahead with the wedding. So on Sunday the 16th, this will be another one of those emotion charged days like the 9th of February was.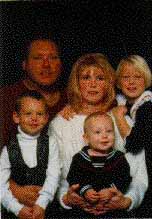 This is our son Frederick (Chip) and his wife Sally along with the three little rug rats. The blond girl, Megan is six, Jacob is three and the youngest, Dalton James Frederick will be one on the sixteenth of this month.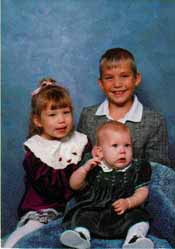 These are the children of Karin & Dale. Travis, is six, Ciara is three and the little one is Fritzi Aleksandra (whom was named after her Papa) is just nine months old. It's so sad that he never got to see this one and will never know the joy of watching them all grow up like I will.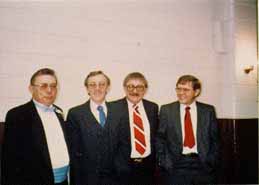 The four brothers. Fritz on the left, Alfred, Bob and Bill. Fritz came from a family of nine children. Of the nine only three girls are still living and the two brothers, Alfred and Bill. They always amazed me, this Luke clan. A wonderful group of people. They came from an abusive Father and usually the saying is, abuse begets abuse. This wasn't the case in the Luke family. Because of the way they were raised, they made sure the abuse stopped with the Father.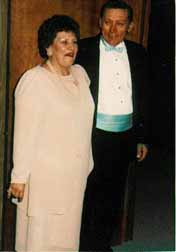 This is a picture of Fritz and myself taken in 89 at our eldest daughter's wedding. One of the only times in his life we were able to get that man into a tuxedo. He does look dapper.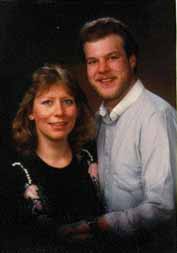 This is our eldest daughter Karin and her husband Dale. They were married in 89 and now have three beautiful children.

















Here is a picture of the fifth wheel trailer that we had bought in 94 with the intentions of it being our home away from home once I retired in 98. He was so looking forward to that time as I was. Now, I will still retire, but will now travel by myself. I know his spirit will be with me all the way.