To Remember Our Tiny Angel,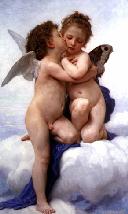 Paul Lyndon Thomas Garratt, April 21,1997 to April 23,1997.
---
This page is a special place for me and my family. Here we hounor the memory of my littie boy who passed away 2 days after his birth. He was an insperation to me I felt his love every time he looked at me. We both tried all those months, to hold on but in the end he was too small and weak to stay. I comfort myself with knowing that his great grandma is caring for him until I get there. I feel his spirit everyday, I know when he died he left a part of himself within my soul to replace that part that died with him. I wrote the poem below. Please read it and remember that it was written from my heart.



My little one how you have grown,only in my imagination.
I loved you too much prehaps but I will never truly let you go.
The day you left me I shall never forget as you looked at me to say a silent good-bye.
So peaceful you looked as you slipped away lying in my arms that day. So now I wait to be with you and in the spring I know you'll come. Whispering on the softest breeze You know I love you dearly Mum.