Tribute to Deputy Nicholas Scott Bryant Lee County, FL Sheriff's Office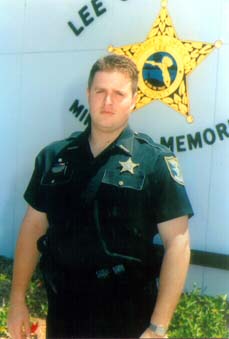 April 12, 1972 - April 19, 1998
Although you left this world in the blink of an eye, at the young age of 26,
you touched the lives of many people, enriching all that had the honor of
calling you 'friend' or 'brother'. You lived to serve, and protect the lives
of others, and in doing so, made the world a better place to live. You lived
life to the fullest, and instilled in us the need to do the same. We know that
you truly earned your 'wings' on that mountain top in North Carolina, and I
think it only fitting you should leave us from that point, that you loved so
dearly. You are missed terribly by your family, but we find comfort in
knowing you are with the Lord, and we will be reunited again. Your light
burns brightly in our hearts, and in this, you are never truly gone from me.

I love you brother, your sister, Kimberlee.