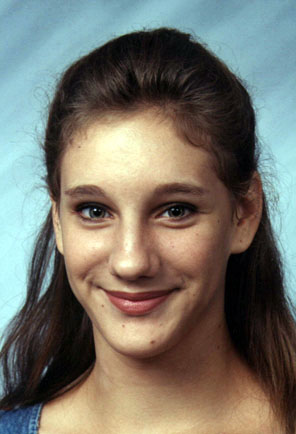 Our Jennifer was born on October 24, 1981 and was carried to Heaven in
March 16, 1998. Her fulfilled life ended as a result of a one vehicle
accident driven by her best friend Rachael. She was loved by many, and
will be remembered. One of her friends wrote:

.....In Better Hands

Heavenly Father I know you are near,
and hope this poem you can hear.
We all know you are the one above,
and I pray her soul you will love.
She moved on before we did,
to heaven you took her, I know you did.
She left us in such grief and sorrow,
But we will not forget her today nor tomorrow.
She is gone and in eternal rest,
but clearly she was one of the best.
Although we all know she was nice, sweet, and great,
We can not deny this was her fate.
With these few lines I hope you understand,
That she is now IN BETTER HANDS.
Written in loving Memory of Jennifer Greenwald!!!
By: Marino Torres
We love you & Miss you!!!