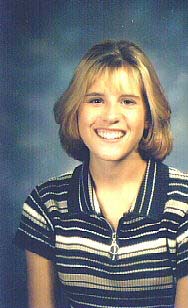 We lost our daughter, Krissy on June 6,1997 after a car accident on June 5. She was coming back from a softball banquet at the school she attended. Krissy was in coma for a day before she died, and during that time, she tightly squeezed my hand which had been a sign to us since she was a little girl that we loved each other! I will hold that memory with me forever.

Krissy had a smile and personality that could light up a room, and she did that many times! We were told recently that she "could make friends and get a job in 10 minutes", and that is so true. She was a special girl. She had plans to go to college and become a neonatologist. I know she would have been a great one. The world will miss her.

We do believe that Krissy is still with us~and we will all see her again some day. What a wonderful day that will be!

She is missed by her mom, dad, older brother Jason and younger sister, Jamie.
We love you, Krissy, and wait for the day when we will all be together again!

Love,
Mom, Dad, Jason and Jamie